By: Samantha Facciolo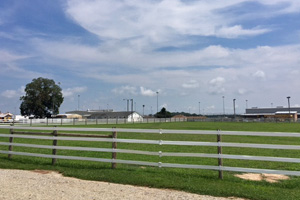 The unassuming, blue and white structure off Smyrna Landing Road is bordered on one side by the Central Violation of Probation Center and by the James T. Vaughn Correctional Center on another. A quiet, two-lane road runs in front of the property, separating it from the cornfields stretching into the distance. Here, on eight acres donated by the Department of Corrections, the six horses of the Delaware State Police Mounted Patrol live and train.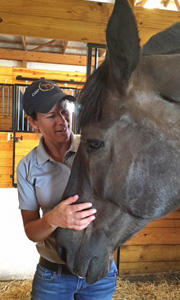 Thanks to the hard work of Master Corporal Alison Meadows, the horses and their lodgings are immaculate. The aisle is swept clean, the stalls are freshly bedded and not a buckle or strap in the tack room is out of place. Whether it's police instinct or equine habit, discipline and attention to detail are evident in every facet of these horses' care. The donated Percheron and Shire horses stabled here are the heart of this facility and as such, are treated accordingly. Though on the morning I visit, they're dozing or munching hay in their stalls, happy for a head scratch or a pat on the nose, these horses and their riders, veteran State Troopers, are well trained in all aspects of mounted duty.
In 2012, when Master Corporal Alison Meadows launched the state's mounted patrol, she was operating it as a part-time unit forged from the cooperation of several organizations, including the Department of Corrections, the Department of Agriculture, New Castle and Kent Counties and donations from multiple individuals. A lifelong horsewoman, Meadows reached out to several established units, including the NYPD and mounted patrols in New Castle County, Pennsylvania, Florida, and California for guidance and training. The fledgling unit, which at the time included an off the track Thoroughbred, had its first patrol on Memorial Day weekend in Dewey, not exactly the calmest of places. However, the horses were champs, and the mounted patrol was born.