Out with the Old in with the New
We are proud that we have been able to help distribute the news of fellow equestrians who list their services and events, not to mention showcase their news in our articles, newsletter and FB page for the past seven years. We continue to grow and love hearing how our site has helped a client find and use your services.
In order to continue to provide these services and get good results for you, we updated the website. It is basically the same, easy format, with the same features. We made it more visual and adaptable to use on your computer, tablets and smartphones.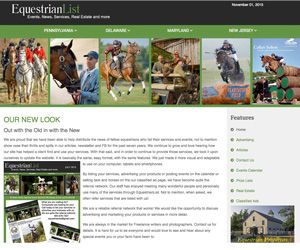 This is the perfect time for you to contact us to discuss listing your services, advertising your products, post events on the calendar or sell tack and horses on the our classified ad page. Our site along with our Newsletter have become quite the referral network that works. Our staff has enjoyed meeting many wonderful people and we personally use and refer many of the services listed through EquestrianList.
No matter how you look at it, listing your services or advertising with us is AFFORDABLE, EFFECTIVE and EASY to use! What are you waiting for?
Editors Note-November 28, 2016: We are very sorry to see the publication of The Horse of Delaware Valley come to an end (Dec 2016 is their last issue). They did a great job of covering local equestrian stories. EquestrianList.com hopes to fill its void. Please let us know how we can be of service to you. We are currently working on a format for all of veiwers to enjoy. We will be making changes to our site and will keep you informed. In the meantime, please This email address is being protected from spambots. You need JavaScript enabled to view it. to sign up for our Enewsletter or visit our Advertising Page. We will give a special introductory advertising rate for those who have advertised in the past with the Horse of Delaware Valley.

---